Sport Specific Medallion and Engraved Plate. Holds 7x5 and 3.5 x 5
K300
Slotted Deluxe Plaques
Custom Plaque Layouts Available!
Wood plaque with plexi covered slots to slide in photo. Cased in quantity of 20.
Memory Mate Slotted Plaque
Appreciation Plaque
with Laser Engraved Plate



Holds 7x5 Group Photo
9 x 12 wood 3 x 1 plate

Call For Details!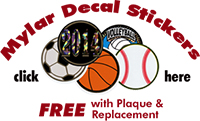 MORE PLAQUES
K275
9 x 12 wood, 6x4 plate

Comes with stock plate "Coach", "Sponsor", or "Manager"
See the engraving page for custom engraving options.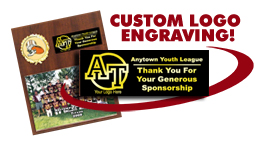 14141 Covello St. Suite #9B Van Nuys, CA 91405 Copyright 2016 Glory Days Services Inc.
Glory Days Services Inc. has been providing quality products for over 20 years to photographers and labs across the country. We are dedicated to serving all our customers, large and small, to provide the products they need at the prices they can afford.